A registered nurse from Tennessee and a special education teacher from California have been identified as two of the at least 58 people who were killed in a mass shooting in Las Vegas Sunday night.
Sonny Melton, R.N., was killed when a gunman opened fire on a music festival crowd from the 32nd floor of the Mandalay Bay Resort and Casino, his employer, Henry County Medical Center in Paris, Tennessee, said. According to White House press secretary Sarah Sanders, he died shielding his wife, Dr. Heather Melton, who survived.
"When the bullets gain raining down, Sonny shielded her from danger, giving up his life to save hers," Sanders said at Monday's press briefing.
Thomas Gee, CEO at Henry County Medical Center, said in a statement, "The thoughts and prayers of the entire HCMC family are with Sonny and Heather's families."
Heather Melton, an orthopaedic surgeon, told NBC affiliate WSMV her husband saved her life. "He saved my life. He grabbed me and started running when I felt him get shot in the back," she said. "I want everyone to know what a kind-hearted, loving man he was, but at this point, I can barely breathe."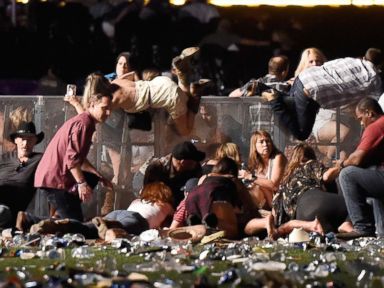 ')
The medical center said it has "provided counselors for any staff affected by this horrible incident."
"This event is a traumatic life experience for those there and those that are a part of the HCMC caring community," the medical center added. "If you are struggling to understand this event or other types of losses, HCMC has staff available at Lake Haven Behavioral Center. HCMC will be offering information and mental health tips to our partners, families and our community throughout this month as we all begin to cope with this tragedy."
Another victim was identified as Sandy Casey, a special education teacher in Manhattan Beach, California.
Michael Matthews, superintendent of Schools at the Manhattan Beach Unified School District, said several other members of the school community were at the concert, including a principal and school psychologists.
"This is unbelievably sad and tragic," Matthews said in a letter to families. "We wanted to let you know so that you can be prepared to support your children and to help them process this information. As you can imagine, this loss is impacting many of our staff members deeply, and while we collectively grieve, we will be working to provide support to everyone affected."
Matthews said counselors will be available to provide support for students, teachers and parents.
The Sunday night shooting has become the deadliest in modern U.S. history. Besides the at least 58 fatalities, at least 515 people were injured. Police said that after the shooting, the lone suspect, 64-year-old Stephen Paddock, was found dead when authorities stormed his Mandalay Bay hotel room.
The motive is unclear. Officials said this morning they have found no connection between the shooting and any international terrorist group.