Quick Take
OneSmart International Education Group (ONE) intends to raise $300 million in a U.S. IPO, according to an F-1 regulatory filing.
The firm provides premium offline K-12 after-school education services throughout China.
ONE is growing quickly in an expanding domestic Chinese education market.
When we learn further details about management's proposed pricing and valuation, I'll provide a final opinion.
Company
Shanghai-based OneSmart was founded in 2008 to address the additional education needs of K-12 children for families in the affluent and 'mass affluent' demographics.
Management is headed by Chairman and CEO Xi Zhang, who was previously associate director of strategic planning at Johnson & Johnson Medical International and marketing manager at Wrigley China.
Shareholders in the firm include Happy Edu, which is controlled by the founder and CEO (92.8% pre-IPO), Origin Investment (1.8%), Goldman Sachs and affiliates (1.3%), Juniperbridge Capital (1.0%) and CW One Smart (0.7%).
Business
OneSmart has created what it calls 'the largest premium K-12 after-school education service provider in China in terms of revenue in 2016 and 2017, according to Frost & Sullivan.'
ONE is really a collection of different services aimed at young children, primary school students, middle school students, high school students and college exam preparation study needs.
In addition, the firm says it has a national market share of 2.4% and it operates a nationwide network of 225 'study centers' in 42 cities within China.
Management also disclosed that it has recently launched a suite of online education offerings with a "OneSmart Online," which is a licensed service from two existing online tutoring service providers.
Although ONE says it intends to expand its online offerings, there is no apparent serious focus on this area at this time.
Customer Acquisition
Since ONE operates study centers in 42 cities, its customer acquisition efforts tend to be localized to each city.
Although the firm considers itself a 'nationwide' service provider, the country of China is so vast that it is forced to market to individual cities.
Management says that it has been able to command higher prices for its educational offerings due to its leading position in various markets in which it operates.
BWB also highlighted its full 'suite' of offerings which enables them to cross-sell other courses within their portfolio to existing students.
Market
According to a 2017 report by DBS Vickers Securities (PDF), it forecasted overall education spending market in China to grow by a CAGR 6.7% 'in the foreseeable future due to multiple drivers:'
End of one-child policy will increase student number growth
Rising income to support continued increase in household spending
Increased parent willingness to pay for education
The group expects the total market value for education and training to reach $474 billion by 2025, with the K-12 sector accounting for most of the demand.
Looking historically, the chart below shows the tremendous rise in education spending by households along with spending growth: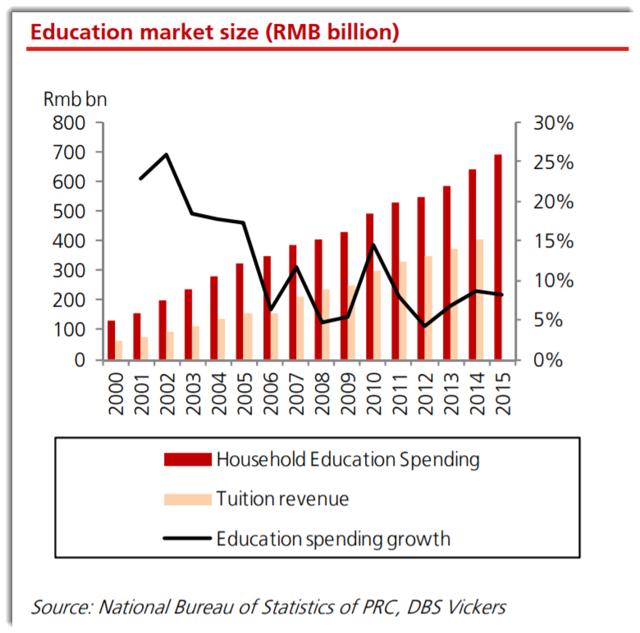 (Source: DBS Vickers Securities)
Competition
Major competitive vendors that provide quality private education services include:
New Oriental
TAL
ONLY
Virscend
Wisdom Education
China Yuhua Education
Maple Leaf Education
Xueda
Management says that its services are subject to intense competitive pressures as well as from a shifting regulatory environment as the Chinese government, both at the national and provincial levels has been increasing its oversight and regulatory footprint within the education sector.
Financials
ONE's recent financial results can be summarized as follows:
Strong topline revenue growth
Increasing gross profit
Uneven but high gross margin percentage
Steadily increasing cash flow from operations
Below are the company's operational results for the past three and ¼ years (Audited GAAP for full years):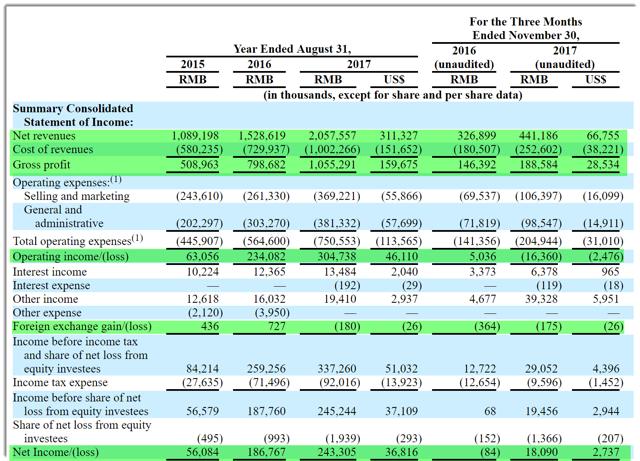 (Source: OneSmart F-1)
Revenue ($)
Three months through Nov 30, 2017: $66.8 million, 35% increase vs. prior
FYE 2017: $311.3 million, 35% increase vs. prior
FYE 2016: $242 million, 41% increase vs. prior
FYE 2015: $172 million
Gross Profit ($)
Three months through Nov 30, 2017: $28.5 million
FYE 2017: $159.7 million
FYE 2016: $126.3 million
FYE 2015: $80.5 million
Gross Margin (%)
Three months through Nov 30, 2017: 43%
FYE 2017: 51.3%
FYE 2016: 52.3%
FYE 2015: 46.7%
Cash Flow from Operations ($)
Three months through Nov 30, 2017: $43.1 million
FYE 2017: $117 million
FYE 2016: $97 million
FYE 2015: $62.6 million
As of November 30, 2017, the company had $246.4 million in cash & short-term equivalents and $737.6 million in total liabilities.
IPO Details
ONE intends to raise $300 million in gross proceeds from an IPO of ADSs representing underlying Class A shares.
Owners of Class B shares, which include management and existing shareholders, will have 20 votes per share compared to Class A shareholders who will have one vote per share.
This enables existing management to retain voting control even if economic majority control is lost or diluted.
The S&P 500 Index no longer admits multiple share class companies to its index.
Management says it will use the net proceeds from the IPO as follows:
for upgrade and expansion of our study center network and education talent recruitment and training;

for research and development expenditures in service offerings and initiatives, curriculum design and data analytics capabilities; and

the remainder for working capital optimization and other general corporate purposes
Management's presentation of the company roadshow is not currently available.
Listed bookrunners of the IPO are Morgan Stanley, Deutsche Bank Securities and UBS Investment Bank.
An enhanced version of this article including commentary on the IPO is available on my Seeking Alpha Marketplace research service, IPO Edge. I write in-depth research about U.S. IPOs and members learn the latest IPO research, news, market trends and industry analysis. Start with a Free Trial.
Disclosure: I/we have no positions in any stocks mentioned, and no plans to initiate any positions within the next 72 hours.
I wrote this article myself, and it expresses my own opinions. I am not receiving compensation for it (other than from Seeking Alpha). I have no business relationship with any company whose stock is mentioned in this article.