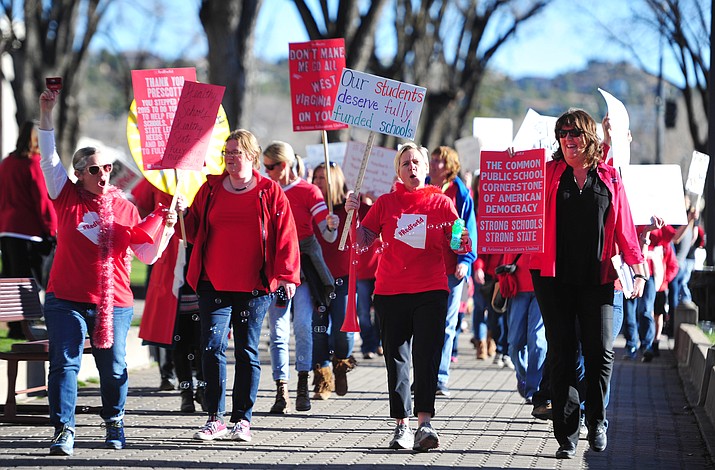 Standing on the north sidewalk of the Yavapai County Courthouse Plaza on Thursday afternoon, 4-year-old Sean VanKirk held up a sign that read, "We are the only super heroes you've got."
He was advocating for his mother, Kelly VanKirk, a sixth-grade teacher at Lake Valley Elementary in Humboldt Unified School District, who was hoisting her own sign, "Stop Short Changing Our Future."
The VanKirks joined hundreds of teachers, administrators and other staff from the Quad Cities for a "Red for Ed" march around the courthouse plaza to urge state lawmakers to save its public schools by giving them the money to do the job. That means competitive salaries for teachers, money to hire adequate mental health and other support staff, funds to enhance technology and curriculum and to make sure schools are safe spaces.
VanKirk said she doesn't want her own children to enjoy a lesser life because their mother decided to join what she considers a "noble profession" that in Arizona is not as respected as it is in other states. Most importantly, VanKirk said she wants state leaders to see that her own children — daughter, Faith, 2, participated in the march around the courthouse from a stroller seat — deserve a high-caliber education.
"This is not just for me, but for them, too," VanKirk said of the growing, educator-led statewide effort to increase funding for public education so that Arizona no longer sits at the very bottom in the nation.
Wearing his own red shirt, Humboldt Unified School District Governing Board President Rich Adler said he is emboldened by the sight of so many people echoing the rallying call to support public education.
"We have to make sure Arizona puts education as a priority," Adler said. "It's long overdue."
Prescott Unified Schools Superintendent Joe Howard praised the effort organized so as not to disrupt daily instruction yet get across the message that this state must do better for all its public schools.
As proud as he is of Prescott's faculty and staff, Howard said they are reaching above and beyond every day to do what's right for students without the resources and remuneration they deserve.
"The best thing we can do for kids is to keep great teachers in front of them, and that's not free," Howard said.
Carrying a sign that read, "This Grandma Supports Public Education," Kristina Allen said she joined the effort because her daughter is a teacher in the Humboldt Unified School District, her two grandsons are students "and it's important."
The stream of marchers were cheered by motorists tooting horns as they chanted, "What do we want? Funding. When do we want it – Now!"
"Show us what democracy looks like!" THIS is what democracy looks like!"
Prescott Education Association leader Mike McCrady said the message he and all his peers are pushing is that education is a fundamental right for all children.
"Kids come first," said the Granite Mountain School fifth-grade math and science teacher. "We need to do more for kids before we do more for corporations."
A number of students and parents hoisted their own signs, and cheered on the efforts that they suggest are key to their futures: "Education is the only hope for our future," "Invest in Teachers — it pays for your future."
One new teacher to the area held up a sign that read, "Don't Make Me Move to Texas."
Liberty Traditional School music teacher Ember Larson in the Humboldt Unified district stood in solidarity with her quad-city area colleagues on the courthouse steps.
Her sign: "The future of Arizona is in my classroom."