On RISE Education Cayman Ltd's (NASDAQ:REDU) 3Q17 earnings call, management pointed out that competition in the Chinese junior ELT (English Language Training) market was intensifying. Not only were the incumbent offline ELT providers introducing online content, but also pure online players were entering the scene. In response to the changing competitive landscape, the company introduced RISE Up, a predominantly online platform, to middle school students in 2015. Moreover, they also launched CanTalk online program to kids grades 6 and above in May 2017, in the format of 1 on 1 and small classes taught by North American teachers.
Management told analysts and investors on the earnings call that they will roll out RISE Up for high school students in 2018. They delivered that promise recently.
Online U.S. High School Courses & Comprehensive K-12 Curriculum System
On December 14, 2017, the company announced the launch of RISE Up Online U.S. High School Courses. These courses will be taught by U.S. high school teachers from the Mount Olive School District, New Jersey, in the format of online 1-on-5 small classes. They cover the subjects of STEM (Science, Technology, Engineering, and Math), and American Studies and Sociology. In the summer, U.S. teachers will travel to China to teach an intensive 2-week summer course.
An online Learning Management System (LMS) will help students develop self-learning and time management skills. They will also have access to online Q&A sessions to individualize their learning needs. The program will use Big Data technology to track students' learning progress and enable parents to monitor and supervise their children's progress.
Through the program, students will earn U.S. high school credits that will help them enroll in the top 100 American universities down the road. Students who completed 2 levels of RISE Up courses can be admitted to U.S. high schools, graduate in one year and thereafter go on to attend top 100 U.S. universities.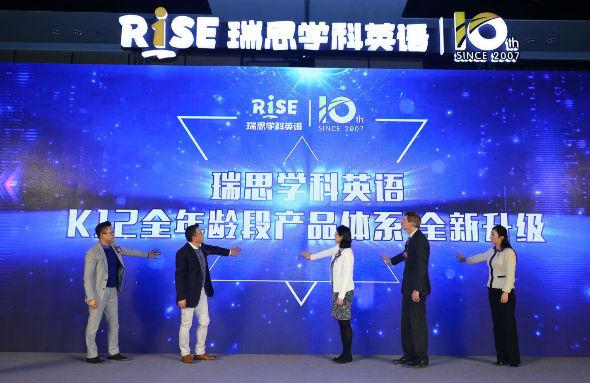 Above: RISE Education Launch of "Comprehensive K-12 Curriculum System" (Source: CCIDNet)
Meanwhile, the company has also acquired The Edge, a high-end education service provider that trains students for SAT, SSAT, ACT, TOEFL, IELTS, etc. The Edge also helps students enroll in Ivy League schools and other top 50 universities in the U.S.
With these recent developments, RISE has differentiated itself firmly as a company that provides comprehensive American kindergarten, elementary school, middle school, and high school curricula that cover ages 3 through 18. Besides, service is now also extended to the 18+ group who are interested in pursuing education in top U.S. colleges and universities.
Future Business Plans
During follow-on press interviews, management also disclosed future business plans.
Firstly, with RISE now providing comprehensive K-12 curriculum system, the company will be expanding into other areas, e.g., math, arts, science, etc. (It sounds like these courses will be taught in Chinese. But maybe English as well?) The company is developing career-based learning courses that management hopes to roll out in the future.
This is consistent with management's longer-term vision of providing quality-development education. They are inching toward this vision faster than I have thought. Management even mentioned that they might begin to release some quality-education product offerings in the next press conference.
Management reiterated that they aim to grow RISE into a group of education companies, of which Rise Immersion Subject English (which is the present-day RISE) will be a subsidiary.
Secondly, management is looking into the possibility of opening learning centers in Hong Kong. The acquisition of The Edge, which is based in Hong Kong, will help the company achieve this goal. Moreover, Hong Kong might become the first stop in the company's global ambition.
I read about the company's vague global ambition before. I simply didn't believe it. But I no longer doubt it after management's press interviews this round.
Think about it. RISE is the pioneer of Subject English training in China. They use all-English courseware developed by HMH ( Houghton Mifflin Harcourt) and internally. Teachers and students communicate in English only. They are not allowed to use their native/local language (Chinese in this case). An ELT business model that does not depend on native/local language is also one that is portable to any non-English-speaking countries/localities.
It's clear that RISE have got a management team that has a great blueprint on how to grow the company. And they are working diligently toward realizing the blueprint, one step at a time.
There is one thing I believe that the company should do to immensely unlock shareholder value though. Certain online customer reviews asserted that it is unrealistic to expect the immersion (offered by RISE's ELT) to have lasting value, given the limited course duration each week. I do not fully agree with this assessment. But I do believe that management should explore the possibility of operating full-time K-12 international schools that offer American curricula.
Other Topics
Management also clarified a few misunderstandings regarding their business and even the stock performance. Allow me to highlight a couple points here.
First, reliance on a handful of famous teachers has been well known as a bottleneck for education companies in China. Growth of some ELT companies is also limited by the availability of foreign teachers (who are native speakers of English). CEO Mr. Yiding Sun clarified that RISE is probably the ELT company that relies least on famous teachers or foreign teachers. Their model is courseware centric, where teachers (mostly Chinese) only plays a role in managing and aiding the young students.
Second, regarding the underperformance of the stock following IPO in late October, Mr. Sun cited investing community's lack of understanding on the company's operation and inadequate communication, setback from other events (he was probably referring to external factors), and lack of new-product announcements (until now). Among the factors he cited, the only factor I subscribe to is the first, investors' misunderstanding of the company's business and inadequate shareholder communication.
Mr. Sun stated that he does not pay attention to the stock performance. He believes that if his team just takes care of their business and grows profit, the stock performance will follow. You have to agree with him on this. Stocks follow earnings. Plain simple, right?
But he also mentioned that the company's major shareholder, Bain Capital, likely pays attention to the stock performance and is interested in resolving the underperformance issue.
Third, related to the second point, what's Bain Capital's future exit plan? Mr. Sun said that, based on his knowledge, Bain does not have a plan to reduce holdings following the lock-up expiration in April. He cited the fact that Bain stayed invested in a U.S. company for more than eight years. He reasoned that Bain has a long-term horizon on quality businesses (like RISE).
Bain Capital Asia's managing director Ms. Lihong Wang is the company's chairwoman. She also chairs the board's Audit Committee. She was also present in the product-release press conference. Bain Capital currently owns 80% of the company.
RISE paid out combined $150 million dividend to Bain Capital in 2016 and 2017. Besides, Bain Capital cashed out 6 million ADSs in the IPO raking in $87 million gross or an estimated net $68 million. With close to $220 million combined paychecks so far from its RISE investment, Bain Capital might indeed have the patience to hold its remaining 80% stake for the longer term.
Final Remarks
To sum it up, the recent K-12 curriculum upgrade and the follow-on management press interviews have boosted my confidence in the stock both near and long term.
The stock has appreciated more than 20% since I wrote about it three or so weeks ago. But, in my opinion, it still has much more room to run to the upside. My one-year price target still remains at $22!
Disclosure: I am/we are long REDU.
I wrote this article myself, and it expresses my own opinions. I am not receiving compensation for it (other than from Seeking Alpha). I have no business relationship with any company whose stock is mentioned in this article.