TAL Education Group
There have been several bullish articles written on TAL (TAL) in recent months by other contributors here and here. They both provided a good overview of TAL's business, performance, and reasons to long the stock. This article takes a deeper look into today's K-12 education and tutoring industry in China, and why TAL's current stock price might be overvalued.
Overview of Chinese Education Market
In ancient China, the governors then used a system called "Keju" to select talented individuals into the government. Keju is a test, it requires candidates to write about a selected topic; the candidates would then be valued based solely on how well-written the article is. Those who scored in the top-three would be known immediately around the country and be chosen for important positions in the government; in other words, the test brought people prestige and wealth simultaneously. Keju has been one of the most important inventions in Chinese history, since it provided a common ground for people with talents, regardless of their family backgrounds or any other external conditions; it remained the simplest way for people to rise in social status — a farmer could become a governor in no time, as long as he/she is capable of thinking strategically and expressing ideas eloquently.
Today in China, the Keju system no longer exists. However, its influence over Chinese education remains. How the Chinese selected talents from ancient times became how they evaluate students today – by tests and mostly based on the scores of the tests. These tests provide a common ground for same-age teenagers to compete with each other, regardless of any other condition except their scores. Hence, the test system in Chinese education is similar to Keju, since it is the only way to rise in social status. As a result, Chinese parents who wanted to make better lives but failed to do so due to various reasons devoted all of their hopes to their children and wished their children could change their fate through education and study. For those parents who are considered successful, they wanted to keep their position or climb even higher in the social ladder, consequently, they devoted even more resources to their children. As a result, education is the number one priority for all Chinese children/teenagers. The drawback of such system is that students are only measured in one-dimension — the scores of the tests.
The most important test of modern China has been the "Gaokao", which is the college entrance exam. Chinese universities enroll students solely based on their test scores. For example, to get into Tsinghua University in 2017, a student must score at least 680/750. In 2016, 9.3 million students took "Gaokao" when Peking University only accepted 3395 students and Tsinghua University accepted 3272 students. This translates into that, to get admitted to either of the top two universities in China, you have to be the top 0.07% of the whole class so that you'll stand a chance of admission. The competition is immense.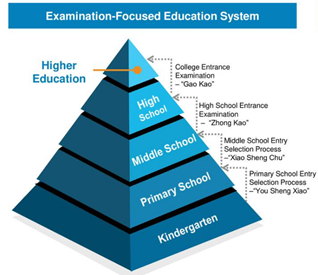 (Source: TAL Investor Presentation)
Unlike the SAT, "Gaokao" is a one-time opportunity so the cost of failure is enormous — it dictates the future of a student in the perspectives of many people. In a nutshell, the entire K-12 education process of China is getting the students ready for "Gaokao". Parents who wished to change the fate of their families couldn't afford to have their children fail tests; consequently, they are willing to devote as many resources as their children need. Based on the nature of such traditions, the education industry is facing a very inelastic demand curve. As long as the educational organizations have good reputations or well-known teachers, they have enormous power on price-setting.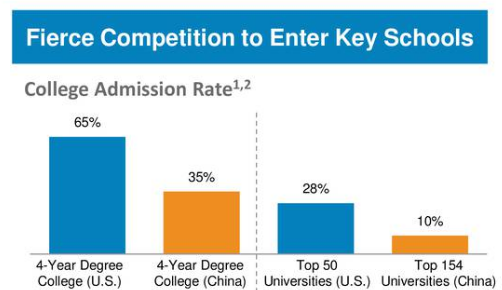 (Source: TAL Investor Presentation)
Estimated Market Size of K-12 Tutoring Services
Based on research conducted by Chinese Teenager Research Center in 2011, on average 76.1% of the expenditure spent on children was on education, which also represents 30.1% of the household income. Since the 1990s, education expenditure per household has been growing at 29.3% on average annually, vastly ahead of the growth speed of household income and GDP. Assuming that, from 2011, the education expenditure has increased by 6.5% per year (which is the average income growth in 2016), by 2017 it would take 43.92% of the household total income.
In 2016, there were 44.13 million children in kindergarten, 142 million students enrolled in compulsory education (primary school and middle school) and 39.7 million students registered in high school. Eliminating students from the rural area who do not have access or capability to tutoring services and estimating the participation rates for each class, the market size, in terms of n the number of students and RMB, is calculated below:
Kindergarten: most kindergarten students are still a few years away from education outside of normal classrooms. They are not the traditional target of tutoring service providers who focus on providing classes on foreign languages or mathematics. We assume only 10% of all kindergarten students participate in after-class tutoring.
Elementary: once you enroll in elementary school, the need of tutoring service increases significantly as you face heavier studies and it is normally during this age students begin taking after-school tutoring. Assumption rate is 50%.
Middle School & High School

Competition is fierce and expectations are high for students in middle school and high school. To get into a well-recognized high school or university, it would be shocking for a student in this cohort to not have any tutoring training. Assumption rate is 90%



Based on our calculation, the estimated number of students enrolled in after-school tutoring services, in the urban areas, is around 64 million. We then applied that with average household income and average spending on education to come up with the size of the market.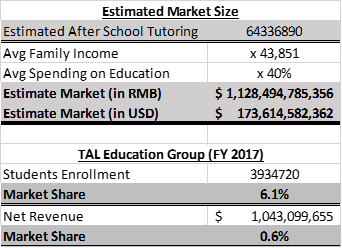 As of February 2017, TAL's total student enrollment was 3,934,720 for fiscal year 2017, which equates to 6.1% of the total market size. TAL's revenue for fiscal 2017 was around $1 billion USD, representing less than 1% of the market size. Neither estimate of TAL's market share is exact, but they do appear to be saying that TAL still has a generous size of untapped market. According to TAL's own estimates from its investor presentation, currently the top 3 players in China account for less than 3.5% of total market.
Opportunity in Offline-Online Transition
Online education has always been part of the K-12 industry during the PC era. However, in China it did not attract too much attention until 2011. In 2011 the industry was 5.75 billion RMB and it grew into a 117.1 billion market in 2015. By the end of 2017, it is estimated that the online education market would become 160 billion RMB.
Online education has multiple advantages over traditional in-class education. It is more convenient and more efficient (students do not have to be at a specific classroom during a designated time, they can be at anywhere they desire and use their time to study via cell phones or tablets). The education resource is also more readily available for online education, since there is no limit on classroom size and students could have easier access to well-known teachers. Besides, the traditional K-12 education incurs a huge transportation cost (not just money, but also time). Time is considered a huge cost for students in their senior years of high school and middle school, since one more hour of practice would mean better preparation for the once-in-a-life-time test. Moreover, since online education platforms usually utilized the data collected from the students and analyzed the weakness of the students, the catered homework generated by the system would mean better practice. As a result, online education has become bigger and bigger over the years.
Since 2014, TAL has been exploring and trying to expand into the online education field. TAL envisioned the future of K-12 education as a combination of "Online+Offline" based on the observation on the rise of the new mobile-internet era.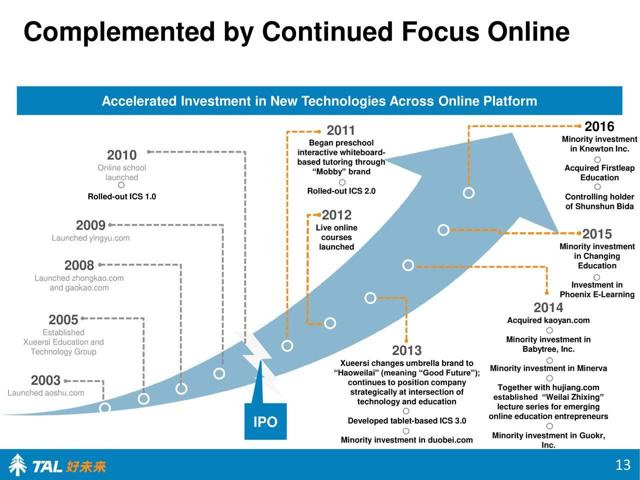 (Source: TAL Investor Presentation)
TAL now offers online courses on most of their affiliates. The biggest one," Xueersipeiyou", now offers online courses through "Xueersi" online school, that could be accessed from both the PC end and the mobile end. The teacher would be streaming online to teach the students two hours a week. The student would get access to a full package, with the class handouts, personalized homework (focusing on the part that students feel unfamiliar), corrections of mistakes and one-on-one tutoring readily anywhere as long as there is internet connection. It saves time from commuting and more importantly, it is not restricted by the class size — well-known instructors are the most valuable asset in Chinese Education, and the online streaming allows all students to be part of the class as they wish. The transformation has been a success — Xueersi is the most searched education institution on the PC end and the second most searched from the mobile end, according to a research by Sohu.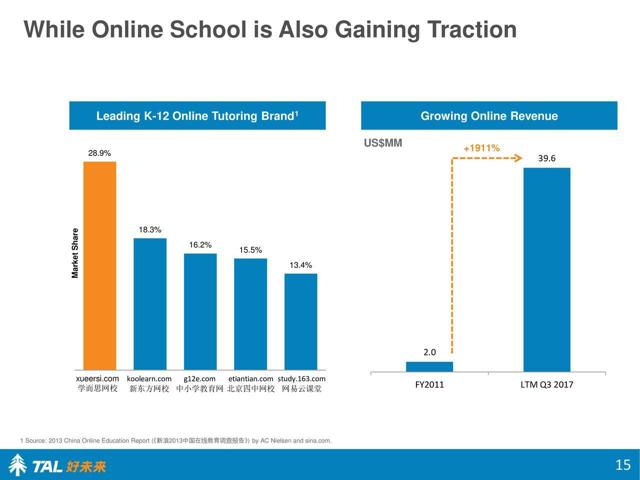 (Source: TAL Investor Presentation)
Besides online courses, TAL has been working on establishing online communities for all parents, where they can share and exchange information on admission information, study notes, education techniques, new schools/teachers. The community is called "Jiazhangbang", with more than 10 million registered users, and more than 21 million visits per day during its peak.
TAL has also been trying to revolutionize the traditional way of teaching by adopting new "big-data" analytic technologies. TAL has entered strategic partnerships with Alibaba (NYSE:BABA) and a platform called "Knewton". The traditional way of Chinese education is a one-way communication — the teacher teaches and student take the notes. The system is not very efficient as student might have different capabilities in receiving the information — some think it is too slow and some think the teacher goes too fast. TAL is trying to use the new technologies related to big-data and cloud-calculation to personalize the study experience of each student. It is aiming to develop the system that would help the students with their weakness, optimizing their methodologies so that they could be improving at a faster pace due to more efficient education.
Valuation
TAL appears to be a tremendous company in an industry filled with growth. Its strategy has produced superb results, the stock has already more than doubled in 2017, and more than tripled since 2016. We conducted a valuation analysis on TAL Education Group using a 10-year DCF perpetuity method with the following assumptions:
60% growth in EBIT in year 1, decreasing by 5% annually, reaching 15% in year 10. This is a rather conservative assumption compared to most analysts' expectations, but not too far away.
Terminal growth rate of 4%, with +/- 1% sensitivity analysis
WACC of 10%, with +/- 2% sensitivity analysis
PRC tax rate of 25%
High growth in capital expenditure in year 1-3 (50%), medium growth in year 4-6 (30%), low growth in year 7-10 (15%). This is a bit higher than most

analysts' expectations.

Normal growth in D&A and working capital
Diluted share count of 190 million
Using the above requirements, the value per share comes out to $104.46. By sensitizing the discount rate and terminal value growth rate by 1%, the bull/bear price ranges from $78.32 – $156.42.


For TAL to surpass the bull estimate, it needs to deliver better EBIT than the assumed scenario, which is already quite high. The current market price of $147 is only justified if TAL can grow its EBIT by 50% annually into 2022, maintain a 5% perpetual growth rate, while managing its CAPEX and operating costs effectively. It is achievable? Possibly, but we don't believe that will be the case, especially with a potential shift in Chinese demographic.
Risk Factor
The biggest external threat to China's K-12 after-school tutoring service is the shift in young demographic. Today most of the enrollment in Chinese K-12 were born prior to 2012, which means that most of their parents were born no later than 1985. What might be causing problems for the education sector is when the generation born between 1990 to 2000 becomes the new parents. The population born in 1980s was 30-40% more than the population born in the 90s due to the "one-child policy". It is foreseeable that the growth of K-12 population would begin to decline, or even drop in number in around 5 years of time. Though the loosening of one-child policy might rejuvenate the market, the increasing living expenses (mostly due to the high real estate prices) have already led to declining fertility desires in the new generations.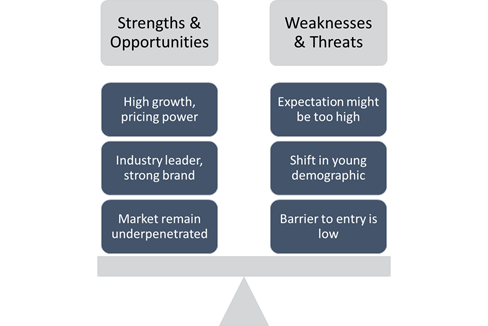 Conclusion
There's no doubt that TAL is a great company. It is still managed by its founder, who's only in his 30s, surrounded by a strong team. Education will always be a top priority for Chinese families, and TAL should continue to benefit from such culture and thrive with its investment in online+offline initiative and its pricing power. But tutoring service is an industry with a low barrier to entry. Competition could be coming from players of all sizes. Costs in talent acquisition (share-based compensation) and capital expenditure (expansion into non-major cities) could also upset the bottom line. The potential shift in young demographic, together with higher living expenses, could likely hurt the tutoring business. At close to $150 per share, buyers are taking a huge leap of faith and believing that 50+% growth will last for 4-5 more years, rather than just 2-3. We have been long TAL but will be taking profits at this price range, if the stock pulls back on earning miss, it's best to reassess the valuation and find a more reasonable entry point.
Disclosure: I am/we are long TAL.
I wrote this article myself, and it expresses my own opinions. I am not receiving compensation for it (other than from Seeking Alpha). I have no business relationship with any company whose stock is mentioned in this article.
Additional disclosure: Research performed by Isaiah He from DX2 Capital Management